Everything has been all about spring and Easter lately.  The recipes are all citrus and eggs and green-colored coconut.  Personally, Easter has put me in the mood for chocolate.  I guess I'm not the only one, because this week I found some truly fantastic recipes made with my very favorite ingredient of all time.
Jonna from Get Off Your Butt and Bake made a truly irresistible and adorable treat this week from Oreo crumbs and cream cheese.  Frankly, it's hard to go wrong with an ingredient list like that!  These Oreo Truffle Pops are cute and spring-like, but could easily be customized to match just about any season or event.  I love simple treats!
Oreo Truffle Pops from Get Off Your Butt and Bake
Oh, sweet and simple chocolate!  How I love thee!  Dinners, Dishes and Desserts posted this fantastic and simple chocolate cookie recipe this week, which absolutely made me drool.  I would love to see a big stack of these in my cookie jar!
Outrageous Chocolate Cookies from Dinners, Dishes and Desserts
The chocolate theme continues with Maria's Mini S'mores Cookies.  These are even topped with a little square of chocolate, just in case you didn't get enough of it inside the cookie!  My husband says I always describe small things as "cute."  Maybe he has a point, because these Mini S'mores are just dang cute!
Mini S'mores Cookies from Two Peas & Their Pod
The combination of chocolate and peanut butter always reminds me of my brother.  I love peanut butter as much as the next girl, but my brother is a peanut butter nut!  Tell me this cupcake doesn't look fabulous!  I mean, filled with peanut butter cups, covered in chocolate ganache, what's not to love?  They're even made with a box cake mix to make them super easy.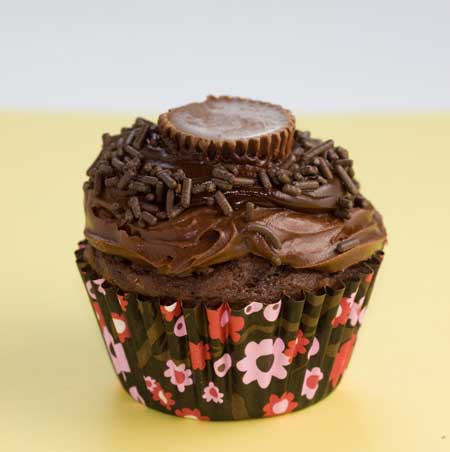 Chocolate Peanut Butter Cup Cupcakes from Cookie Madness
If you need some chocolate to get you through the heavy laundry days, this caramel pecan (and chocolate!) bar might do the trick.  Plus, this post might just help you understand "laundry algebra!"  I love two-for-one posts!
Caramel Butter Pecan Bars from Confessions of a Cookbook Queen
Also check out:
Rice Krispie Treat Recipes I pinned in preparation for the Krispie Treat Death Match
See Pictures of Upcoming Posts on my Flickr Album
Chime in About my New Logo!  It's on my Facebook Page, and coming to my blog soon!