It is definitely spring, with summer just around the corner.  It has been sunny in my neck of the woods, although not necessarily warm.  It has been enough to make me feel like putting away the soup recipes and bringing out the summer salad recipes.  The other day, I volunteered to take dinner to a neighbor, an elderly couple who had been ill for some time.  I opted for chicken salad, made with a rotisserie chicken from the grocery store deli.  I was also thrilled to find blackberries on sale, and I paired them with lemon-flavored whipped cream.  It was a perfect summer meal, even if it's barely April.
I was so excited when I saw Russell's Blackberry Mint Brownie Parfait.  This recipe uses everything I love!  I definitely prefer brownies to cake, because I love the dense texture and heavy chocolate flavor.  My husband and I agree that blackberries are a superior fruit, which is one of the few things we agree on.  And, it's really hard to go wrong with fresh mint.  Perfection.  I can't wait to try it.
Blackberry Mint Brownie Parfait from Chasing Delicious
And speaking of fresh, summery flavors, have you seen these Cherry Cookies by Diane?  She always creates beautiful and delicious confections, and for some reason, they frequently appear heart-shaped.  These Cherry cookies also have cherry icing.  It seems so summery and happy, Life is a Bowl of Cherries and all that.  I bet they would be great with lemonade.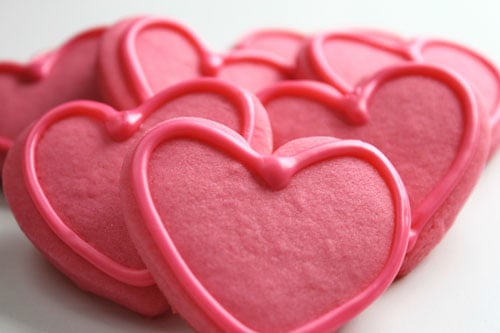 Cherry Cookies with Cherry Icing from Created by Diane
Some recipes are almost too beautiful to be believed, and this is one of those.  Heather at Sprinkle Bakes created this gorgeous Mint White Chocolate Mousse Cake this week.  I'm scared to try it, because I'm sure mine will be nowhere near this pretty!  Incidentally, Heather has a new cookbook coming out.  You should watch the trailer and get the book.
Mint White Chocolate Mousse Cake from Sprinkle Bakes
Katrina at In Katrina's Kitchen came up with this fabulous idea to create "grass" from green-tinted white chocolate, and use it for an Easter Egg Hunt Cupcake.  I think it is a really fun idea, and I'm sure any kid would love it!  (Hint: there's a Cadbury mini-egg hidden in that chocolate grass somewhere!)
Easter Egg Hunt Cupcakes from In Katrina's Kitchen
Georgia at The Comfort of Cooking made these adorable Bird Nest Cupcakes.  I love that she took the time to turn the eggs into little birds.  It's the details that make all the difference, isn't it?  Plus, you know how I love toasted coconut!
Springtime Bird's Nest Cupcakes from The Comfort of Cooking
Also check out: